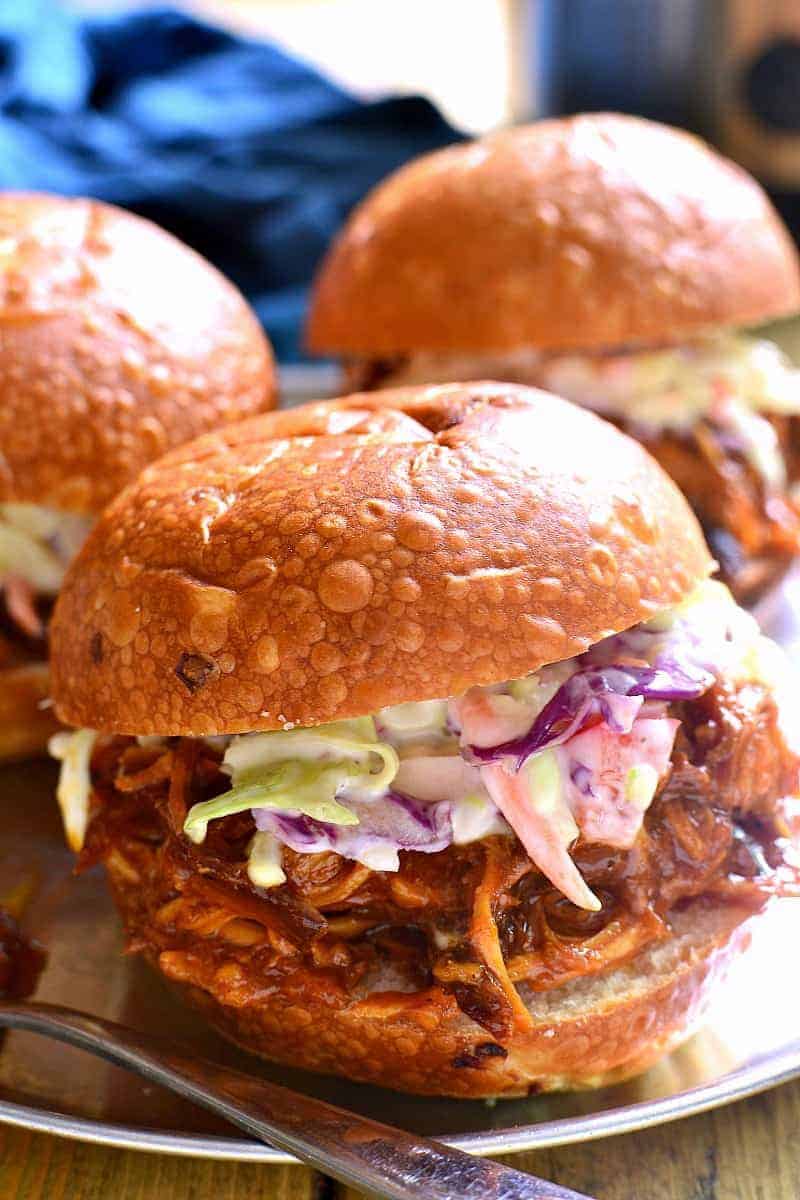 Apparently, I'm on a roll with two posts about food in a row. But, this is another recipe you can't miss!
The flavors of the chicken and pineapple together are divine. Plus, it is an easy meal and you know how I LOVE easy meals, especially ones I can throw into my crockpot. Hopefully, crockpot Hawaiian chicken sandwiches will make their way to your table soon.
Ingredients:
For the chicken:
1 medium onion, chopped
2 Tablespoons butter
1/4 cup flour
2 cups pineapple juice
1 cup brown sugar
4 cloves garlic, minced
3/4 cups ketchup
1 Tablespoon soy sauce
1 1/2 teaspoons Worcestershire sauce
1 teaspoon salt
1/2 teaspoon pepper
1/2 teaspoon onion powder
1/2 teaspoon ground ginger
3 pounds of chicken breasts
For the coleslaw: 
1 1/3 cups mayonnaise
1/4 cup apple cider vinegar
1/3 cup sugar
1/2 teaspoon ground mustard
1/4 teaspoon onion powder
1/2 teaspoon salt
1/2 teaspoon pepper
1 bag of coleslaw salad mix
Don't forget the sandwich rolls!
Directions:
For the chicken: 
In a large skillet or pan, melt the butter. When melted, add the onions and cook until done.
Then, stir in the flour until a paste is made.
In another bowl, whisk together the pineapple juice, brown sugar, garlic, ketchup, soy sauce, Worcestershire sauce, salt, pepper, onion powder, and ginger.
Combine the mixture with the ingredients in the skillet. Shimmer for five minutes, stirring often. The mixture will start to thicken.
Next, place the chicken into the crockpot. Pour the sauce over the top.
Cover and cook on low for six to eight hours.
When done, remove the chicken and shred. Place back into the crockpot and cook for another 30 minutes.
For the coleslaw:
Stir together mayonnaise, apple cider vinegar, sugar, ground mustard, onion powder, salt, and pepper.
Pour the sauce over the coleslaw mixture. Stir together
Serve on top of the chicken on a sandwich roll.
Enjoy!
xoxo,
Megan